2023 Details Coming Soon for Girls and Boys ages 9-17.  (Field player sessions for 9-17 are girls only, but due to popular demand we have added boys back to the GK instruction!)
Goalkeeping Special!  Add a week of goalkeeping to your full day Fieldplayer and save an extra $75.00.

On the registration form, after selecting "Two  MSA Full Day Sessions" and receiving the appropriate discount, then check "Yes" for the "GK  Special" and receive an additional $75.00 off, making the 2nd full day session 195.00.

2022 Goalkeeping is available June 27th  for  girls  ages 9 -17.
Instruction includes technical and tactical training plus communication.
Goalkeepers will play in 4v4 games.
Campers should bring their own gloves and shirts.
Goalkeeping Instructors include:
Paul Lubao
Started playing MSI Classic at 6 years old.  Played Division 1 NCSL throughout middle school and high school.  2 year Varsity starter at Magruder HS. Has been playing goalkeeper for the past 20 years.  Still currently play at various leagues in the DC area.  Have been coaching GKs for the past 10 years at various age levels with both Loudon and MSC soccer clubs.

Guido ZucconiGuido has played in goal for over 20 years; as a youth playing locally on travel teams, at club level while in college in Baltimore, and still plays in various local adult men's leagues.  He has coached and been an assistant coach for goalkeepers at many levels, ranging from recreational to club travel teams for the past 7 years.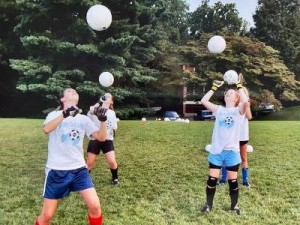 Register Here