The Final step in your Summer 2023 Training!     Registration Here

Locations is Good Counsel High School
NEW!  Camp open to rising 8th – 12th graders.
GIRLS  July 31st – August 3rd
BOYS   July 31st – August 3rd
Monday – Thursday, 6:00 – 8:00 pm (rain or shine – indoor facilities available)
Cost is $225.00
 Note:  Players who have already played on any  Good Counsel Soccer Team may not attend.
All high school players  welcome in day and evening sessions.  For 2022, we had  9th – 12th graders  registered from Good Counsel, Clarksburg, Sherwood, Stone Ridge, Rockville,  BCC, Resevoir, Holton, Magruder, Monsignor Slade,  Springbrook, Walter Johnson!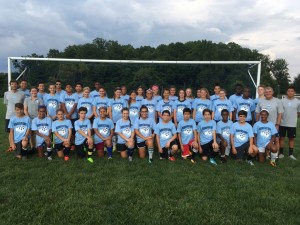 Get ready for JV/Varsity tryouts.  Attend one of the Full Day Camp to learn and practice new skills and expand your soccer knowledge.
Then finish your preparation at this HS Prep Evening Camp for players  entering 9th – 12th grades and prepare for the High School tryout or Fall season.
The instructions will be led by Jim Bruno, who has prepared highly successful high school level teams for 30 years. Boys week with Coach Jeremy Spoales.  They will  work with players on fitness, tactics and skills specifically designed to prepare you for the intensity of tryouts.